myLOOP is a free assessment tool, that can help you kickstart your transition
Are you ready for the Circular Economy?
Chances are, that circular economy is a big shift from your company's current situation, and that transitioning from a linear to a circular business can appear overwhelming. How do you get started? Where in the organisation should you begin? How do you engage your colleagues and create an impact?
myLOOP provides a simple but powerful tool, that assesses your readiness for implementing circularity in your business. It can be applied broadly in the organisation and help create awareness of your performance and develop a shared language around circular economy. Hopefully leading to a greater engagement around the topic of circularity.
From the assessment, you get a scientifically backed Readiness Profile, that gives clarity of your status quo and helps you prioritise the next steps in your company's transition based on your strengths and opportunities.
Overview of readiness for circular economy
Knowledge and terminology on circular economy
Engaging stakeholders and colleagues around circularity
Taking the "first step" towards working with circular economy
Support on how to effectively transition to circular economy
Using the readiness assessment
The readiness assessment is based on 30 questions on Circular Economy in businesses. When answered, you get an immediate overview of your company's readiness. The assessment can be done in a workshop setting with involvement from colleagues across the organisation or individually by people online.
All assessments created under a company are pooled into a consolidated company profile, that only contributors from your company have access to. Your individual answers are confidential to you of course.
And if you develop your readiness over time? You can easily create new and update current assessments to keep track of the evolution or individual business units.
In the end, the goal is to have a readiness profile based on assessments from many different skillsets and experience levels. And as your company evolves and becomes more ready, you can create new assessments to keep track of the progress and get recommended steps in your transition.
Facilitate your own readiness workshop
A good way to kick off the transition towards circular economy is with a readiness assessment workshop. Here, you can engage your colleagues and develop a shared language on circular economy, while letting people discuss experiences and ideas for the company.
ready2LOOP offers a workshop kit for free, including a presentation, a guide, agenda, and the various tools and material needed to facilitate an interesting and informative workshop to kickstart your transition.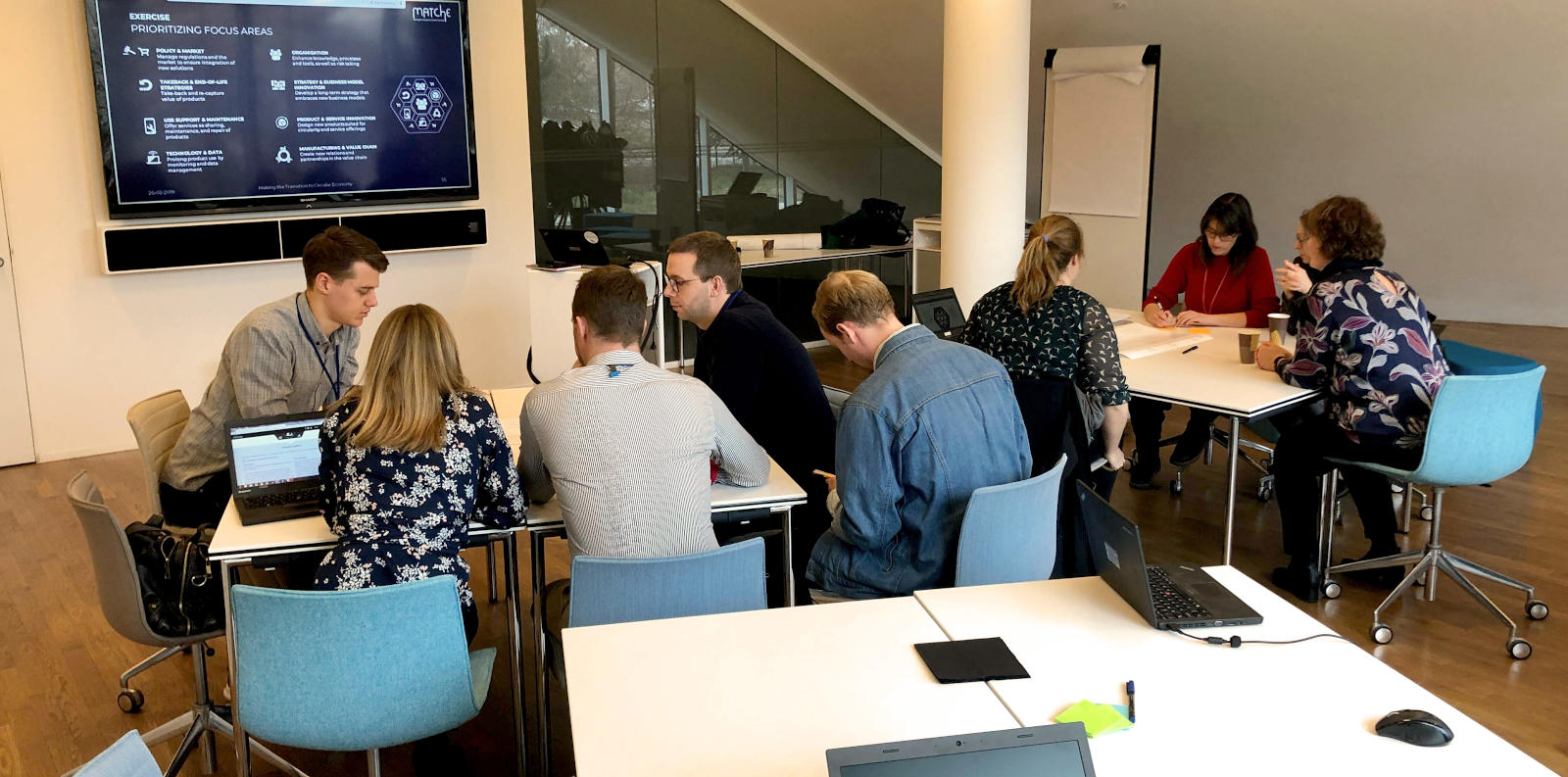 Structure of the workshop
Engage colleagues in a workshop around circular economy
Use guiding documents to structure and facilitate the workshop
Review the assessment for an understanding of the current status
Discuss potential future focus areas
Do you want to facilitate a workshop?
Proposed participants
For a robust and valuable assessment, we recommend a broad representation of functions and seniority levels to participate in the workshop. This usually leads to a good representation of the company's effort and some great discussions.
Companies of different sizes usually engage:
Small
3-5
Medium
10+
Large
20+
Proposed timing
The workshops take roughly 2,5 hours and is divided into two sections. The first being the introduction and assessment, and the second being the results and the discussion of a circular focus area based on these.
| | |
| --- | --- |
| [30 min] | Intro to circular economy |
| [60 min] | Readiness assessment |
|   | BREAK |
| [15 min] | Results from assessment |
| [30 min] | Discussion and focus |