Exploring circular opportunities on water in manufacturing
"The holistic approach that the Circular Economy takes on our business has enabled us to see new opportunities for achieving environmental benefits" - Senior Project manager, Hanna Birna Sigurdardottir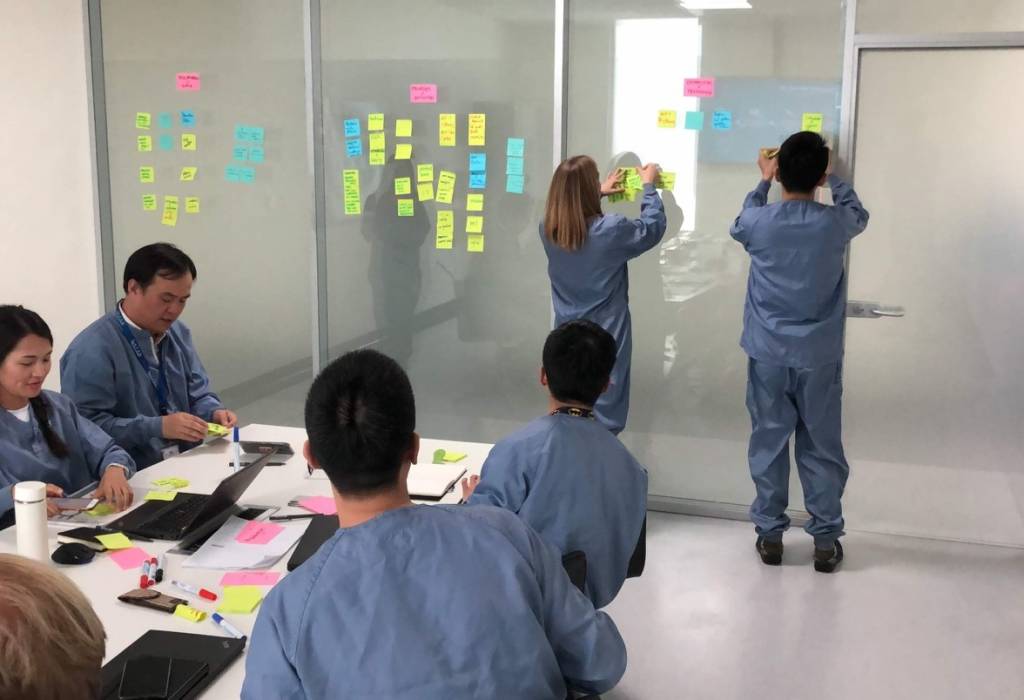 Opportunity
"Circular for Zero" is Novo Nordisk's newly launched strategy to reach zero impact on the environment. MATChE supported one of Novo Nordisk's factories to explore circular initiatives in a systematic innovation sprint.
Path
Focusing on 'Manufacturing and value chain' Novo Nordisk and MATChE went through a process of finding opportunities to closing resource loops in manufacturing. During the process, focus was on new technology, industrial symbiosis and strategies for circularity.
Outcome
The process resulted in a number of development initiatives and a roadmap for closing the loop on water consumption in the water stressed area of the production site.
Context
Novo Nordisk is a global healthcare company with more than 95 years of innovation and leadership in diabetes care. Headquartered in Denmark, Novo Nordisk employs approximately 42,700 people in 80 countries, and markets its products in more than 170 countries. Novo Nordisk is the world's largest manufacturer of insulin and also helps people defeat obesity, haemophilia, growth disorders and other serious chronic diseases. To deliver life-saving medicines to patients, Novo Nordisk has a global manufacturing set-up, and water and energy are key components in the production processes. With the Circular for Zero strategy the company is aiming to have zero environmental impact by implementation of circular economy across its value chain. Part of the strategy is to look into production, where the ultimate ambition is to eliminate all waste of water, materials and energy.
Opportunity
With the launch of the 'Circular for Zero' strategy, an opportunity arose to explore the potential in applying practices of Industrial Symbiosis, Industry 4.0, closing loops and eliminating waste in manufacturing in the context of a Circular Economy. Novo Nordisk, the MATChE team and two DTU bachelor-thesis students went through an intensive three day innovation sprint at a Novo Nordisk manufacturing site to ideate, explore and map opportunities for a Circular Economy in manufacturing.
Transition path
The process started with conducting a readiness assessment and a prioritisation of the 8 readiness dimensions with the readiness toolkit where the dimensions 'Manufacturing & Value Chain', 'Technology and data, and 'Organisation' were chosen. Through a three-day design sprint at the manufacturing site, opportunities were explored with a number of employees by using the 10 guiding questions in 'Readiness for Industrial Symbiosis' as inspiration for a brainstorming session, which was followed by an idea clustering. Using dot-voting and super-voting to choose a focus, the team dived deeper into an analysis of water flows with the aim of eliminating waste of water. To enrich the deep dive on water a 'Flow Analysis' of the water flows at the factory was created with the aim of identifying hotspots and giving recommendation of possible closed-loop initiatives and how sensors could help systematize the effort. Afterwards, a suitable goal for water savings were defined, and a roadmap was drawn listing necessary activities going forward with the initiative.
Outcome
The transition path resulted in a tangible plan for key activities to be carried out in order to gain savings of water, where a water flow analysis and a hotspot analysis gave valuable detailed insights into the improvement potential of the water flows and input to choosing sensor placements.
From taking a broad approach on the sprint it also resulted in an idea catalogue of possible initiatives within material, energy and water savings.
Reflections
We asked senior project manager, Hanna Birna Sigurdardottir and SVP EHS coordinator, Sofie Gudum Faaborg to reflect on the transition path they went through with the MATChE team. "The process involved people from different parts of the organisation and gave us a shared language and common understanding of how a transition to Circular Economy can go hand-in-hand with other agendas, such as the data and technology development, in a manufacturing facility".
Next step
For Novo Nordisk the next steps will be to work with the activities on the roadmap, specifically how to integrate these into current and future work practices across manufacturing sites.
Company
NOVO NORDISK A/S
Focus area for transition path