Exploring circularity of packaging in health-tech
"Our path helped us view our business in a new context and to build our internal capability and a language around sustainability and circularity, whilst focusing on a concrete improvement opportunity." - Packaging Development Manager, Heidi Gade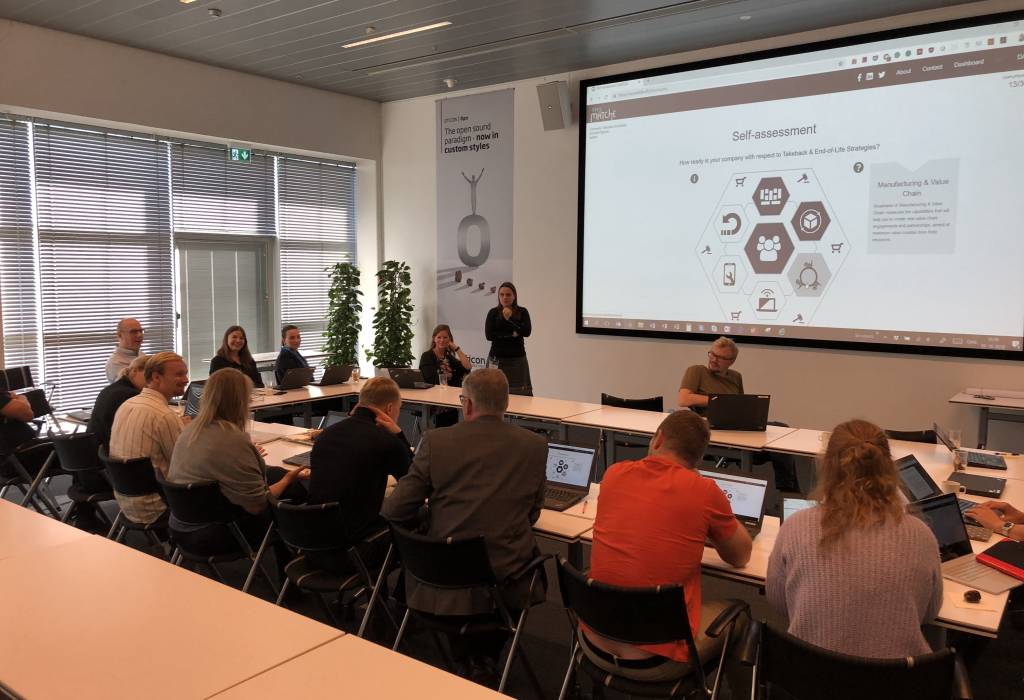 Opportunity
It was recognised that a great opportunity lay in focusing on packaging from a circularity viewpoint.
Path
'Strategy & business model innovation', 'Organisation' and 'Product & service innovation' charted the path for Oticon's focus on creating a circularity strategy for their packaging.
Outcome
An understanding of the current state and strategic opportunities for packaging development was the most important result from this project.
Context
Demant is the parent company behind the world-renowned hearing-healthcare brand Oticon. Oticon's vision is a world where hearing loss is no limitation and Oticon has been a world leader in hearing care since 1904. Oticon has committed to increase its sustainability focus and has partnered with MATChE to focus on how Circular Economy can be used as a lever of change and opportunity within the company.
Opportunity
There was an assumption that Demant's packaging used for hearing aids had a great potential from a circularity viewpoint.
Transition path
Oticon started on their transistion path using the MATChE readiness assessment to understand the current readiness for circular economy and to prioritise initiatives from which the readiness dimensions 'Organisation' and 'Strategy & Business Model Innovation' were chosen. Afterwards, 'The Circular Strategy Scanner' and a SWOT analysis were used, which led to the pilot initiative: "Ecodesign of circular packaging". As part of the pilot initiative, a MECO analysis and an ecosystem mapping were carried out, in order to identify hotspots and subsequently develop design and business case recommendations. The 'MECO Configurator', a tool to simulate the environmental footprint of packaging design changes, was developed to support future decision making. The development of this tool was inspired by the simulation approach named; 'Simulation approach for early design of business model and product design strategy', which can be found in the MATChE database.
Outcome
The most important result from this project was to gain a better understanding of the current state and setting a baseline in order to improve on sustainability and to deliver on strategic opportunities.
Reflections
Taking part in the MATChE programme has helped us gain a better understanding of where we are, and indeed where we could be by applying the tools and the processes submitted by MATChE. We've identified several initiatives that could be pursued to become a more sustainable business.
Next step
The next step for Oticon will be to further explore and develop the recommendations among other things by using the 'MECO Configurator' and to implement the learnings from the pilot initiative to build a comprehensive strategy.
Company
Oticon A/S
Focus area for transition path