Exploring circular business models for taking back luxury consumer electronics
"By being carrying out a circular accelerator programme, we have benefitted greatly from a much more structured and tool-based approach to mapping out our opportunities within the context of a Circular economy. The Readiness Assessment, was a valuable kickstarter of engagement across our functions, and what surprised me the most about this, was to see how people really aligned on our readiness performance and how important it is to create a shared language on what CE means to us". Mads Kogsgaard Hansen, Global Product Management, Bang & Olufsen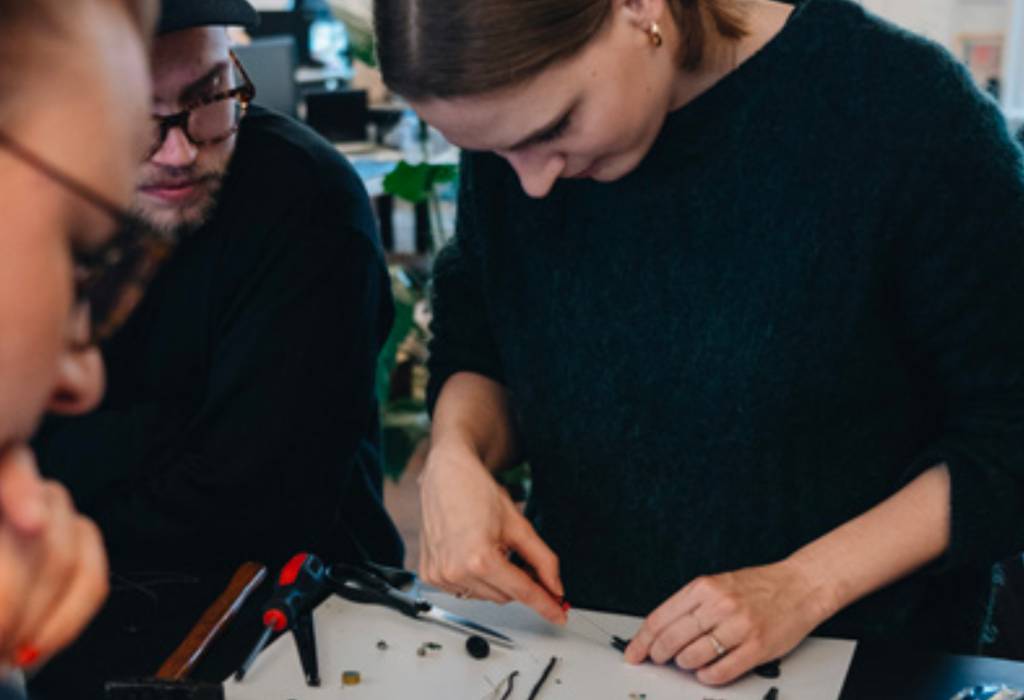 Opportunity
Can we design new circular take-bake models, which by leveraging on our rich heritage of sound, design and craftsmanship, enables us to onboard new customer segments, expand the longevity of our products further and create new revenue streams for profitable growth?
Path
By using circular business models and strategies for a circular economy as a trigger for innovation, this path explored opportunities for circulating products with a strong focus on 'Strategy and business model innovation'. With a structured approach facilitated by the MATChE project, Bang & Olufsen went through steps of mapping and quantifying the baseline and simulating future scenarios for circular business concepts.
Outcome
A completed exploration study of take-back models for refurbishment, remanufacturing and reuse and a framework for assessing the environmental impact of products.
Context
Bang & Olufsen is one of the world's premier manufacturer of high-end consumer electronics especially within sound and vision. Bang & Olufsen is committed to minimizing the adverse impact on the environment and climate from the company's own operations and its supply chain as well as to continuously reducing the environmental footprint of the company's products over their entire lifecycle.
Resource efficiency, serviceability and high-quality standards have long been an integral part of the company's daily operations, and Bang & Olufsen has been widely recognized for the timeless design and long-lasting characteristics of its products. It is the company's ambition do even more within this area by structuring and scaling its strong heritage and core capabilities of design, craftsmanship and superior sound experiences to create more sustainable products that can help minimize the company's environmental and climate footprint.
Opportunity
By exploring new circular strategies and business models, Bang & Olufsen and the MATChE team set out to discover new opportunities to close the loop on consumer electronics and hereby enhancing the resource efficiency and serviceability of B&O's products. However, the question was if these new circular business models would be a sustainable and viable alternative with regards to both economic and environmental aspects?

The aim for the transition path was to enhance the organization's understanding on what circularity means for the operational model used by Bang & Olufsen today and how it can be used as a strategic driver for innovation for both the product design and business models. The goal was to create a concrete case study within a selected product category to secure a more narrow by deeper analysis and to assess its concrete potentials.
Transition path
The transition path of Bang & Olufsen started by making a Readiness Assessment on my.matche.dk from which the readiness dimensions 'Organisation' and 'Strategy & Business Model Innovation' were prioritized as a focus area. The first step was to explore the current baseline by understanding the current business strategy and environmental footprint within the supply system of a chosen product category. This was done by a disassembly session of the given product and by mapping the parts and the product throughout its life cycle. From this baseline, a case study explored different configurations of take-back scenarios enabling recycling, refurbishment, remanufacturing and reuse. The focus of the pilot was to create a business case for taking back the product that would also result in environmental gains.
Outcome
The transition path has supported Bang & Olufsen in creating a new framework for mapping supply systems for individual products and packaging systems and linking these to an environmental impact screening.
This has enabled creating a baseline for the climate and environmental impact of a product pilot case, including the identification of short-term and long-term improvement areas. The take-back pilot case was assessed quantitatively looking at both environmental footprint and economic viability, showing promising results.
Additionally, Bang & Olufsen has obtained a shared language as well as an understanding of the as-is situation during the project that can be transferred to new projects in the future.
Reflections
We asked Global Product Manager, Mads Kogsgaard Hansen and 'Out-of-box and onboarding lead', Caroline Rossing, from Bang & Olufsen from Bang & Olufsen, to reflect upon the transition path they went through with the MATChE team.
"We believe that it helped us to get off to an effective and very structured start. We also managed to start the conversation across many different functions in our organisation and to get to a point where we are able to have data informing our decisions and put real impact behind our opportunities for creating new business, while improving the environmental profile of our at the same time."
Next step
The next step for Bang & Olufsen will be to mature the concept further and to explore the possibilities of testing take-back concepts in a given market in the future. "Our plans are to further scale this work to several other product systems and product categories" says Mads. This will also enable modelling of the business impact of new initiatives aimed at reducing product and supply chain impact. The modelling tool is expected to be tested and implemented during next fiscal year.
Company
Bang & Olufsen
Focus area for transition path